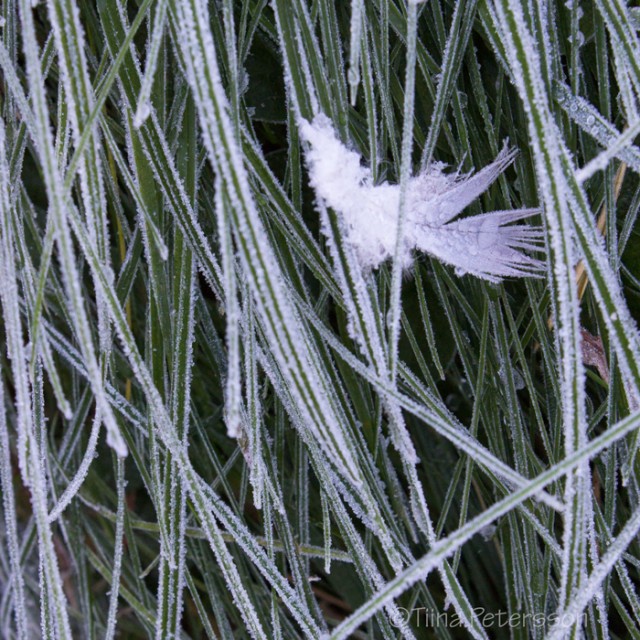 Under natten har världen svepts in i ett vitt och magiskt frosttäcke. Det hade varit riktigt kul att gå ut med kameran och försökt fångat lite av Kung Bores magi. Men eftersom tiden inte riktigt räcker till för nöjen denna helgen så får jag visa bilder från en tidigare frostmorgon istället.
Men nu får jag ta och slita mig från värmen inomhus, det dags att bege sig ut i kylan. Igår blev vi klara med att lägga pannor på ena sidan av taket  så nu är det bara resten kvar. Inte lika trevligt med kylan när jag vet att jag blir kvar uppe på taket så länge solen är uppe. Hade definitivt varit trevligare och gå ut en timma eller två och sedan slagit mig ned i soffan och värmt upp mina frusna fingrar med en varm kopp choklad eller en kopp med rykande hett te. Men det är bara bita ihop och få det gjort… Brrr!
Hoar frost
It was a beautiful view I woke up to this morning. The world had been swept into a white and cold frost. I think it beautiful with the hoar frost! It would have been really fun to take my camera and go out to capture the magic. But unfortunately I don't' have the time this weekend so I grabbed a couple of photos from a other day that I'll show you instead.
Please follow and like us: