I går hängde jag på en 30 dagars teckningsutmaning.  Varför? För för att det är kul och kreativt! 
När jag jag var liten gjorde jag två saker, jag ritade och jag läste. På gamla dagar har jag tagit upp det där med att teckna. Jag är långt från skicklig men jag gör det för att det är roligt och kreativt. Min man skrattar oftast år mina bilder. Det gör mig absolut ingenting. Mina teckningar är både knasiga och barnsliga. 🙂
Du kan följa mina och de övrigas bidrag med tagen #drawingchallenge_no1på instagram eller på min teckningsblogg.
A 30 day drawing challenge
Yesterday I joined a 30 days drawing challenge. My husband usually laughs at my doodle because they are a bit quirky but I don't mind. I do it for fun! And this challenge is a way to boost up my creativity.
You can follow the drawing challenge with hashtag #drawingchallenge_no1 on Instagram (@naraogat). You an also, if you like,  see my doodle on a other blog of mine.
Gruppen så här långt/
Some of the contributors: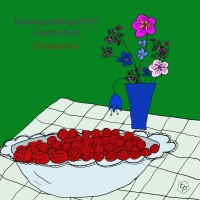 Please follow and like us: