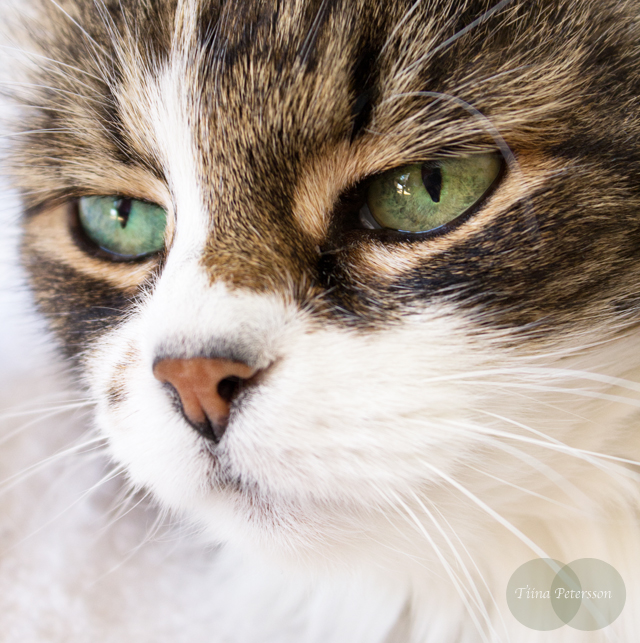 Den vackra lilla damen med de gröna ögonen är min kära katt Ida som gick bort för ett par veckor sedan. Hon har lämnat ett stort tomrum efter sig och det känns fortfarande overkligt att hon är borta. Hon har gett mig så mycket ovillkorlig kärlek genom åren. Jag har haft henne sedan jag flyttade hemifrån och hon har funnits där för mig i vått och torrt. Med mig kommer jag bära alla minnen. Jag kommer till exempel minnas hur hon apporterade sina gröna bollar, hur hon följde mig som en skugga vart jag än gick,  våra kurragömma lekar, hur hon sov vid mitt huvud och jag kunde vakna upp och ge henne en liten sömning klapp och hur hon väckte upp mig på mornarna med att nafsa och dra mig i håret. 
Slutet gick snabbt. På en vecka gick hon från att vara helt frisk till att vi var tvungna att ta adjö av henne hos veterinären. Vi hoppades in i det sista att hon skulle överleva. Men till sist gav hennes lilla kropp upp. Till årsskiftet skulle hon fyllt 18.
Här finns några fler bilder på henne.
Rest in peace
This beautifull lady is my cat Ida. But sadly she's no longer with us. She passed away just a couple of weeks ago and she have left a big void in my hart. I've had her for almost 18 years.
The end came quick. From being a healthy elderly cat she became sick and passed away in one weeks time.
I'll miss you my little hairy friend.
Please follow and like us: