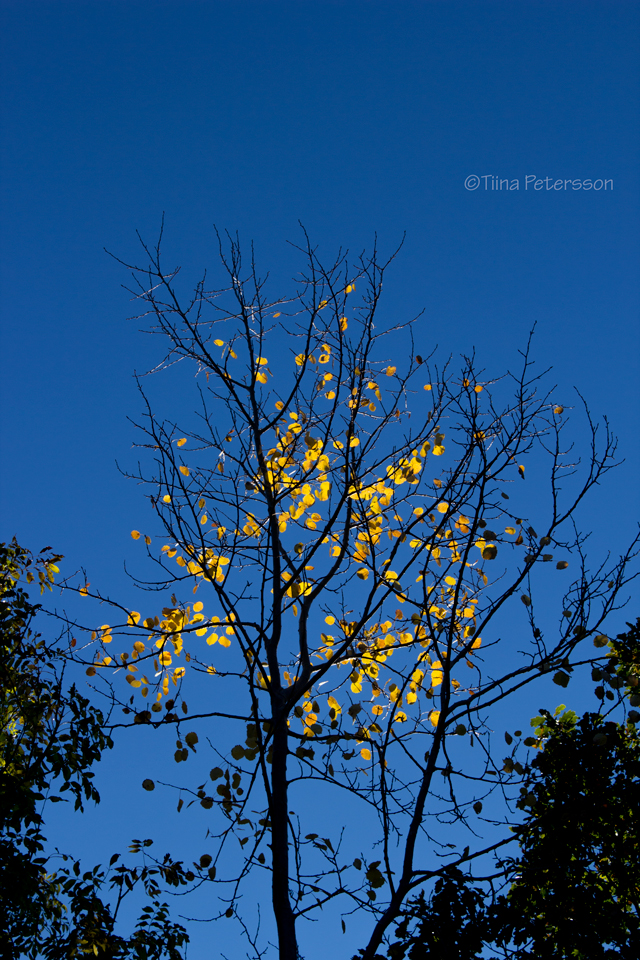 Även om jag inte är en höstmänniska så tycker jag om det vackra i varje årstid – även hösten. Särskilt höstdagar med klar luft och blå himmel. Så häromdagen var jag tvungen att avbryta allt som jag höll på med för att fånga det korta ögonblick när förmiddagssolen lyste upp trädens ljuskronor, så att de badade i gyllene strålar.
Det är något magiskt över den värmande solen som smeker över landskapet. Ett trolleri av moder natur. En sista hälsning om att allt har ett slut men kommer att vakna till liv igen om några månader. Det är dagar som dessa som ger mig kraft att orka igenom några av de regniga, kalla och mörka månaderna som väntar. 
The magic of fall
This fall the clear crispy and sunny days have been few so the other day I had to drop everything and capture some fall magic. Even If I'm not a "fall person" I can appreciate these beautiful days. It's something magical over days like this. Mother nature shines her warm lights all over the world as if she is saying goodbye for now, we'll see each other in the spring.
Days like this carries me forward and give me strenght for the the dark and rainy months to come. Spring WILL come again!
Please follow and like us: